Xpuhil is a Maya archaeological site located near the modern-day town of the same name. Xpuhil means "cat's tail" and is the name of a type of plant that grows here.
The archaeological site encompasses roughly 5 square kilometers.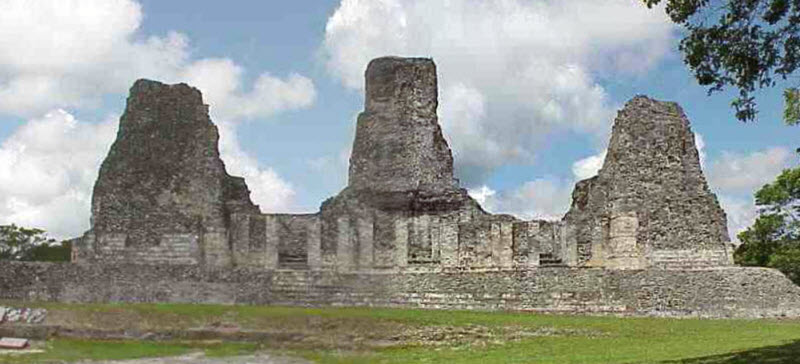 When?
A majority of the architecture and artifacts found at the site is believed to be from the end of the Classic Perid, although the site seem to have been settle earlier than this, possibly as early the Early Classic period. The Instituto Nacional de Antropología e Historia estimate that the Mayas first occupied the site around the year 300 AD and that the site was abandonned around 1200 AD.
Archeology
Several groups of Mayan constructions has been found in the 5 square kilometer area that make up the Xpuhil archaeological site. The buildings loosely follow the style of late Classic Río Bec architecture.
Interstingly, many of the constructions here seems to be "fake temples". They look similar to other Mayan temples, but it would be difficult to actually carry out traditional ceremonies here, e.g. due to virtually un-climbable stairways and non-functional doors.
Structure I
The most famous structure in Xpuhil is the three-towered building called Structure I. The fact that is has three towers is a bit puzzling, since the norm is two towers. Structure I also have roof-combs, steep stairways and non-functional doors. According to one theory, Structure I was created to look similar to the pyramid-temples found in other parts of the Mayan region.
Archaeological exploration
1938
The site came to the attention of the scientific community after Karl Ruppert and John Denison encountered it in 1938.
1940s
In the 1940s, Russian-American Mayanist scholar and archaeologist Tatiana Proskouriakoff explored the site and made some detailed reconstruction drawings, especially of Structure I. Since then, the structures at the site has deteriorated significantly, so having Proskouriakoff's drawings is highly valuable to modern scholars.
1999
In 1999, a new part of the site came to the attention of the scientific community; a part located within a Mexican army camp. This section is now known as Xpuhil Cuartel, since cuartel means "army barracks" in Spanish. Xpuhil Cuartel is located roughly 2 km south-southeast of Structure I. In June – October 1999, Xpuhil Cuartel underwent reconstruction.
Looting
Since 1938, Xpuhil has been targeted by looters. Among other things, pieces of the complex facades are desirable for collectors.