Ciudad del Carmen is a city located on Carmen Island in the Laguna de Términos on the coast of the Gulf of Mexico. Laguna de Términos is a series of lagoons and tidal estuaries connected by two channels to the Bay of Campeche in the southern part of the Gulf of Mexico.
Until the 1970s, Ciudad del Carmen was a fairly small city where a large chunk of the population as involved in the fishing and shrimping industry. Once Pemex discovered oil off the coast, the city developed into a hub for the local petroleum business, attracting both Mexicans and foreigners looking for a job. As of the 2005 census, the city had nearly 155,000 residents. Many of the foreign-born oil workers in Ciudad del Carmen hail from Texas, USA.
As late as the early 1980s, you needed to get on a boat to reach the city from the mainland, but this changed when a causeway bridge was contructed. In 1994, another bridge to the island was finnished, the 3,861 meter Puente El Zacatal which is one of the longest bridges in all of Latin America.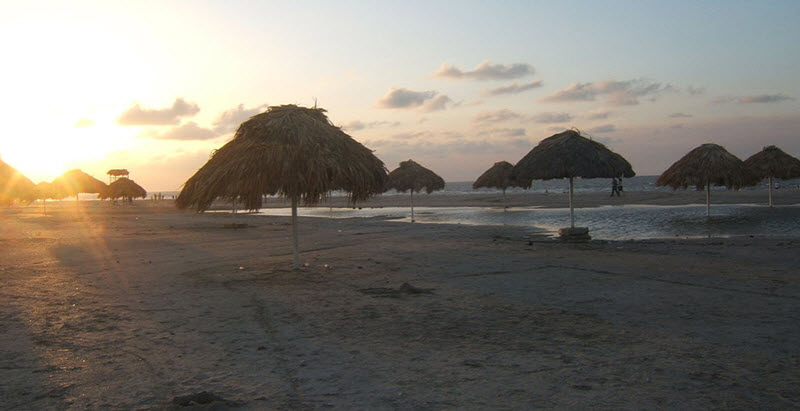 Airport
Ciudad del Carmen International Airport
IATA code: CME
ICAO code: MMCE
Climate
Ciudad del Carmen has a Tropical savanna climate, with a pronounced dry season from January through May. The rest of the year is wet season, with September and October being especially rainy.
Background
Antiquity
The area that we today know as Ciudad del Carmen used to be an important connection point between the Mayan and Aztec empires.
Colonial period
During the colonial era, Ciudad del Carmen was an important harbor, especially for ships going back and forth to Spain.
Between the 16th and 18th centuries, many pirates stayed in the city while having their ships maintained and plotting new attacks.
The name Ciudad del Carmen wasn't adopted until July 16, 1717. On an old map dated to 1699, Isla del Carmen is shown as two islands: Tieste I and Port Royal I. The name Ciudad del Carmen, which is Spanish for City of Carmen, is derived from Nuestra Señora del Carmen (Our Lady of Carmen), the title given to the Blessed Virgin Mary in her role as patroness of the Carmelite Order. She was seen as the protector of the island, and consequently also the city, when the Spanish forces finally managed to evict the pirates.
Independence period
Isla del Carmen was a part of the state of Yucatán, and then Tabasco, before becoming a part of Campeche in 1863.
Data from the year 1840 show that Ciudad del Carmen then had a population of roughly 7,000 people.
Celebration
In the end of July, Ciudad del Carmen is the focual point for numerous cultural and religous festivities focused on Our Lady of Carmen.